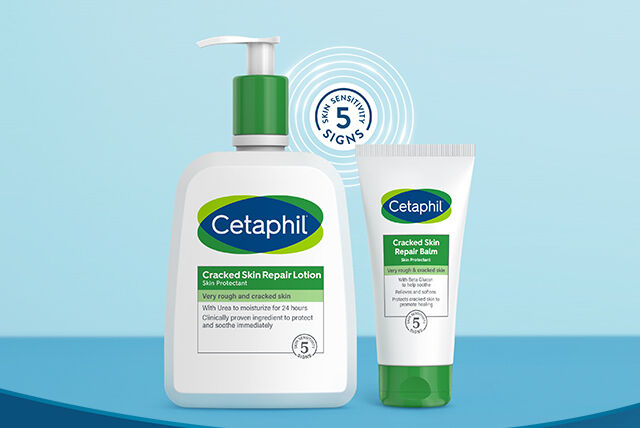 DOCTOR RECOMMENDED
CRACKED SKIN REPAIR COLLECTION
PROTECT, REPAIR AND PREVENT CRACKED SENSITIVE SKIN.


The new Cetaphil Cracked Skin Repair Line provides instant relief while acting as a protectant to restore and prevent cracked skin from coming back.

HAVE CRACKED SKIN?
Dry, cracked skin can be caused by a variety of factors, including extremely hot or cold weather, washing or sanitizing frequently and even genetic conditions. While common, cracks can be a cause for concern, so it's important to hydrate and repair the skin barrier.
A NEW SOLUTION IS HERE
When it comes to restoring cracked skin, hydration is important, but protecting the area from irritation and future issues is essential to long-term repair. Unlike other products that simply hydrate your skin, Cetaphil's New Cracked Skin Repair Line protects, repairs and prevents cracked sensitive skin.
WE'VE GOT YOUR CRACKED SKIN COVERED
The New Cetaphil Cracked Skin Repair Line includes both a lotion and balm to provide relief and protection for your sensitive skin. The lotion is designed for minor cracks and everyday maintenance on your body, while the balm is intended for more severely cracked skin that often occurs on drier areas, like hands and feet. Whatever your skin calls for, we've got a solution for you. CLINICAL SURVEY RESULTS
CRACKED SKIN REPAIR LOTION
100% of people saw significant improvement in their skin in one month.
94% of people saw skin texture improvement in one month.
CRACKED SKIN REPAIR BALM
97% of people felt their skin was softer and smoother after one use.
90% of people saw improvement of cracked skin in five days.


Like all Cetaphil products, our New Cracked Skin Repair Line is formulated with gentle ingredients to defend against 5 Signs of Skin Sensitivity.

CRACKED SKIN REPAIR LOTION
Designed for minor cracks and everyday maintenance, our clinically proven lotion is formulated with Dimethicone to soothe and protect skin and Urea to draw in moisture for 24-hour hydration. Use it all over for skin hydration and repair, or any areas where you're experiencing cracked skin.

Intended for more severely cracked areas, including on the hands and feet, our clinically proven balm contains Dimethicone to protect and repair dry skin. It also contains Glycerin to hydrate the skin for 24 hours and Beta Glucan to help soothe irritation.