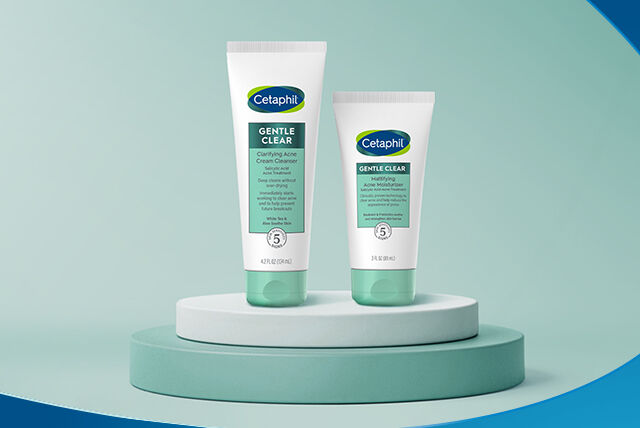 INTRODUCING THE GENTLE CLEAR LINE.
FIND US IN THE ACNE AISLE


New Cetaphil Gentle Clear is a clinically proven acne regimen designed with soothing ingredients to treat breakouts without overdrying sensitive skin.

STEP 1:
CLEANSE
Acne-prone sensitive skin needs a cleanser that doesn't dry it out. Our Clarifying Acne Cream Cleanser deep cleans with a balanced formula of 2% salicylic acid, soothing aloe and white tea extract.
STEP 2:
MOISTURIZE
After cleansing it's time to maintain your skin barrier with our Mattifying Acne Moisturizer. Our balanced formula of 0.5% salicylic acid, soothing botanicals and prebiotic provides 48 hours of hydration for your sensitive skin and helps prevent future breakouts.


93% had clearer skin with reduced inflamed lesions
82% said they finally found a gentle routine for clearer skin
89% said skin looked less oily
Galderma 12-week clinical regimen study, Subjects used Gentle Clear Acne Cleanser followed by Gentle Clear Acne Moisturizer twice a day.

CLARIFYING ACNE CREAM CLEANSER
This gentle cream-to-lather cleanser is clinically proven to clear and prevent breakouts in acne-prone, sensitive skin. Our balanced formula contains 2% salicylic acid to help gently remove dead skin cells and unclog pores, along with aloe and white tea extract to help hydrate and soothe skin.

MATTIFYING ACNE MOISTURIZER
Our innovative moisturizing formula hydrates for 48 hours clears breakouts while soothing acne-prone, sensitive skin. It's uniquely formulated with 0.5% Salicylic Acid to gently remove dead skin cells and unclog pores, improving overall tone and texture. It also contains our special botanical and prebiotic complex to soothe acne-related redness and help nourish skin.

Our balanced formulas are designed with gentle ingredients to clear breakouts and soothe sensitive skin.

"Love love love! This was a great cleanser. Left my skin feeling clean and fresh. I don't breakout that often but I feel like I would incorporate this into my skin care routine when I was experiencing acne flare ups."